Graceway's 40th Anniversary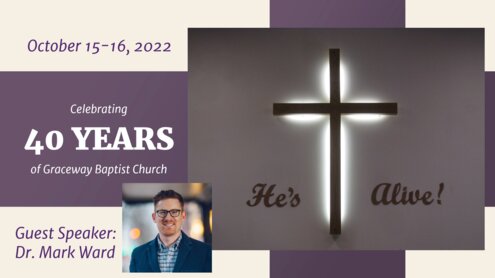 Graceway Baptist Church began in 1982 under the ministry of Pastor Walter Isaak. This year, we celebrate God's faithfulness to Graceway over 40 years.
On October 15th and 16th, Dr. Mark Ward was our guest speaker, challenging us on the importance of having a biblical worldview.
Schedule:
Saturday, October 15th
5:00pm Potluck Supper
6:30pm Anniversary Service (Topic: Worldview)
Sunday, October 16th
9:00am Morning Prayer
10:00am Morning Worship Service (Topic: Creation)
11:30am Second Hour Service (Topic: Fall)
12:30pm Lunch
1:30pm Afternoon Service (Topic: Redemption)
Please visit this playlist, to view the services.