This review is a couple of weeks late, but since 2021 was such a momentous year in the history of Graceway, it needs to be documented so that God's faithfulness can be remembered. After all, Graceway is simply one outpost, representing God's mission to redeem humanity. This is His story.
January began in lockdown as we continued to deal with the COVID-19 pandemic. We live-streamed our morning worship services and held our Annual General Meeting via Zoom on January 24th.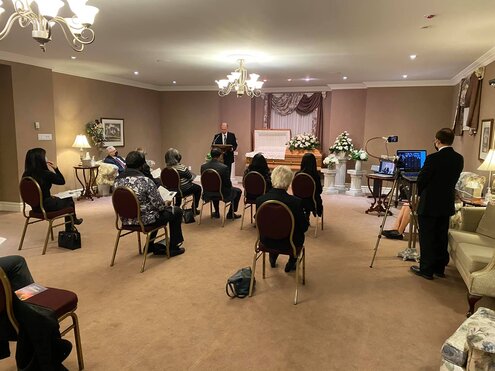 On January 30th, our beloved Thiru Shanmugam passed away. On February 4th, Thiru's funeral was held amidst the lockdown. 10 people attended his funeral in-person with many others joining around the world via Zoom. Despite Pastor Walter Isaak's declining health, he was able to attend the funeral, read the scriptures and give tribute to his friend, Thiru. Pastor Isaak preached his final sermon at Graceway the following Sunday, February 7th.
The Biblical Counseling Training Conference was held online the week of February 7th with 6 church members participating. They received a week's worth of training on how to point people to Christ amidst the problems of life. On February 21, we were able to return to 30% capacity in our Morning Worship services. We did so with identical services at 10:00am and 6:00pm.
On March 9th, we convened a special Tuesday prayer meeting, asking God to give grace to Pastor Isaak in his struggle with cancer. God did give grace in the weeks to follow, but ultimately by taking Pastor Isaak to himself the second week of April.
On March 11th, we held another installment of our Doctrinal workshop series and on March 18th, we moved our Thursday prayer meeting to a hybrid format, with some people meeting for prayer at 103 Martin St, and others joining via Zoom. This format has continued to the present day.
Easter weekend fell in early April with a Good Friday Service on April 2nd. Capacity restrictions tightened up again just before Easter so to accommodate the people who desired to worship together on Resurrection Sunday, we held three Easter services (8:30; 10:00; 11:30).
Pastor Isaak passed into the arms of Jesus on April 12th and we held his funeral on April 15th. Due to the restrictions, only his family was able to attend in-person, but the service was live-streamed on our YouTube channel and a large number of people viewed the service in that format. We give God thanks for Pastor Isaak, his testimony and his many years of faithfulness, pastoring the church he founded in 1982.
On April 27, we received our long-awaited permit for our renovation project and on May 31st, the initial prep work for the renovations began with the removal of the balcony ceiling.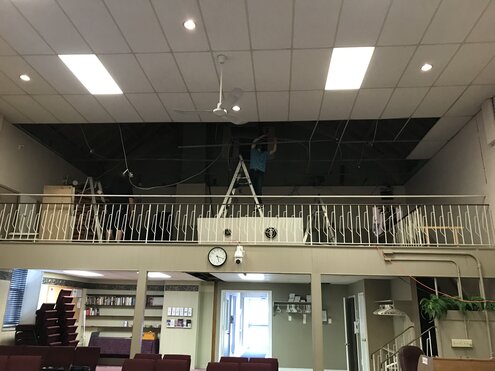 On May 30th, Pastor Scott completed his series on the book of Romans and that evening, we gathered via Zoom for a Vision Night, reviewing our goals and opportunities for the future.
In the early days of June, Harold Andres passed away and his burial took place on June 7. On June 13th, we were forced back to 15% capacity and we began having 3 morning worship services to accommodate people in our small building. A discipleship training group began on June 16th and on the 20th, Pastor Scott began a sermon series from Genesis on the life of Abraham. Our friend, Dick Strating also passed away in July and his funeral was held on July 13th.
July 3rd and 10th were church work Days and on July 16th, the contractors arrived and the renovations began in earnest. The building was quite messy for a few weeks, but the timing was providential as most of our ministries were online through the summer and we were able to continue our morning worship services through the mess. More church work days took place on August 21st and 28th as we prepared the floors for new carpet.
On September 7th, Graceway held its first GriefShare meeting. Using solid video-based teaching, the group met each week until December, growing in their grief journey and finding healing in Christ and His Word. On September 26th, our Sunday School program returned to the newly renovated classrooms after 18 months of online classes. It was a joy to see all of our students return to their classes and to see our upgraded rooms being put to good use.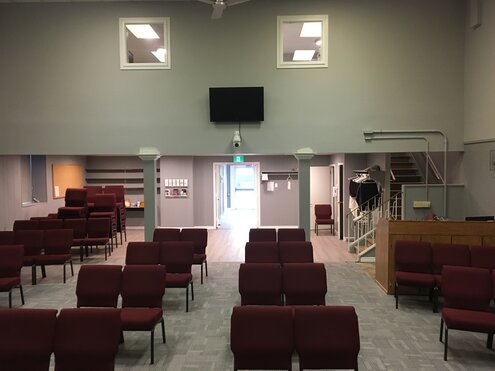 Women to Women ministry returned on October 2nd; Our final building inspection was completed on October 28th. On October 30, we held a memorial service for Harold Andres. Many of his family and friends attended from across Ontario. On October 31st, our Junior Church program was restarted under the leadership of Christina Banks.
November brought the return of our Saturday morning men's ministry and on October 14th, we held a prayer of dedication for our building, giving thanks to God for His wisdom and provision.
On December 5, Pastor Scott finished his series on the life of Abraham and began a series from the book of Matthew. A Christmas Eve was led by various men in our church and we enjoyed the pulpit ministry of Matt Laidlaw on Boxing Day.
Once again, we are facing some ministry disruptions due to capacity restrictions, but we are thankful for God's faithfulness to Graceway even during a difficult year. He is not done with His church and we look forward to seeing God work in and through us in 2022.